Main St. Market
Recipes
http://www.mainstselect.com/Recipes/Detail/6464/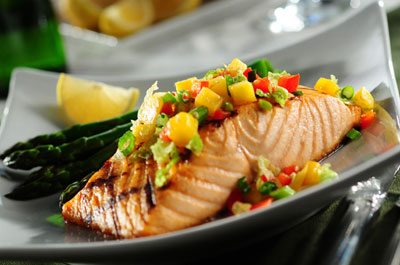 Pan-Seared Atlantic Salmon with Mango Slaw and Oven Roasted Asparagus
Customer Rating:
not rated
0 Ratings 1 Comment
Yield: Serves 2
Ingredients
2
(4 oz. ea.) Atlantic salmon fillets

Seasoning Blend*, to taste (ingredients below)

1
Tablespoon
extra virgin olive oil

6-8
asparagus tips

Mango slaw** (ingredients below)

Chopped parsley

Seasoning Blend*:
1/4
cup
Kosher salt

2
teaspoons
cracked mixed peppercorns

1/4
cup
dried basil leaves, crushed

1/4
cup
dried oregano leaves, crushed

Mango Slaw**:
1
Tablespoon
olive oil

2
teaspoons
sesame seeds

1
cup
mango, cubed 1/2- inch

1
small head Napa cabbage, shredded

2
green onions, chopped

1/2
small red bell pepper, chopped

1/2
cup
slivered almonds

Dressing:
2
Tablespoons
water

4
Tablespoons
rice wine vinegar

2
tespoons
granulated sugar

1
teaspoon
soy sauce

1
teaspoon
fish sauce

1
pkg.
Asian noodle-type soup mix (set aside dry noodles for garnish)
Directions:
Heat oven to 350 degrees F.

Sprinkle seasoning blend over the salmon. (Feel free to adjust amount of seasoning used and reserve what's left for another application at a later date.)

In a hot saute pan or skillet, add the olive oil and distribute around pan. Place salmon fillets in hot pan (skin side up) and sear fish about 2 to 3 minutes.

Add asparagus tips to the pan and evenly coat with oil. Flip fish, skin side down in pan and immediately place pan in oven for 2 to 4 minutes. (Do not overcook.)

Remove from oven and transfer fish onto a platter (skin side down). Spoon Mango Slaw** over fish and garnish with dry Asian noodles and parsley.

To prepare Seasoning Blend*:
Combine salt, peppercorns, basil and oregano. (The amount used may be adjusted to your personal taste. Store remaining seasoning tightly covered for future use.)

To prepare Mango Slaw**:
Heat sesame seeds in oil over medium heat until brown. Set aside to cool.

Combine mango, cabbage, onion, pepper and almonds; toss.

For the dressing combine water, vinegar, sugar, soy sauce, fish sauce and seasoning packet from soup mix. Stir until blended.

Pour dressing over mango slaw and toss just before serving.
Please note that some ingredients and brands may not be available in every store.
Main St. Market Recipes
http://www.mainstselect.com/Recipes/Detail/6464/
.